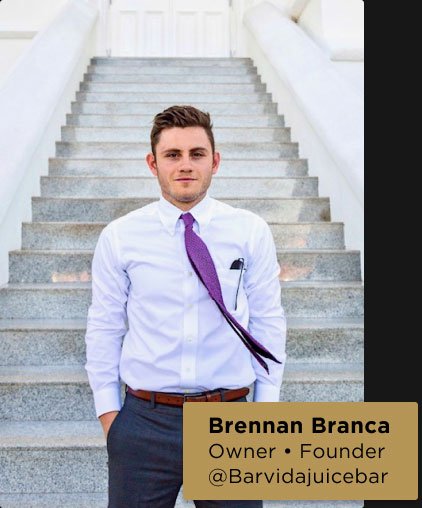 Meet the founder of BARVIDA.
Brennan Branca is the Owner and Founder of BARVIDA. A native of Darien, CT, he is an alumnus of Columbia University where he was recruited out of Darien High School to play Division 1 soccer. As an athlete and certified personal trainer, Brennan's inspiration for creating BARVIDA came from his passion for fitness, health, and wellness, and his love for juicing. He was tired of eating at seemingly "healthy" juice bars and cafés to find out that the menu items were loaded with sugar, preservatives, and artificial ingredients. Inversely, he was equally frustrated with the juice bars that were in fact healthy, but frankly, tasted awful. Someone needed to fix this, and he figured – why not him? Enter BARVIDA. Where a premium quality product meets premium quality taste.
BARVIDA's ethos is to provide our customers with premium nutritional beverages, meals, and products that are specifically curated for health & wellness without compromising on flavor (no more sad salads here). We are a 100% organic, 100% plant-based juice bar & café. We know the frustration of going to a "healthy" café, only to be disappointed with the quasi-healthy menu options that are laden with sugar and aren't focused on high-quality organic ingredients and superfoods. OR the annoyance of finding what looks like the cleanest option on the menu, only to realize it tastes like dirty sand wrapped up in old cardboard.
These have been our frustrations too – that is why we were inspired to create a menu where the healthy options are now the tastiest choices at the table. We welcome all foodies, regardless of how new they are to their health journey. This includes fussy eaters, grumpy husbands, and well-behaved furry friends. We offer only the highest quality ingredients & premium menu options. Gone are the days where plant-based food is synonymous with backpacking through India.
BARVIDA is laser-focused on providing only the cleanest, best tasting, highest quality organic ingredients and superfoods.
You wouldn't put low-grade gas in a Ferrari… need we say more?
Every facet of BARVIDA is carefully and meticulously thought-out. We cut fruit; we don't cut corners. You value your health and wellbeing, want the most out of life, and aim to succeed – that's why we're here.
We're the best that we can be,
so that you can be the best that you can be.
…is to raise the bar in health & wellness without forcing you to feel overwhelmed by needing to know it all. Don't know the difference between Acai and Matcha?
That's ok, we're here to guide you through it.
We'll meet you where you're at.
Have a fun night out and wake up super hung-over?
Nice. We have a wellness shot for that.
Need energy before your workout? We've got you.
Just hungry cause it's lunchtime and you want great tasting healthy options? Come on over.
You work hard, play hard, and need the right fuel to reach your goals.
We've got what you need.
You've got enough on your plate, you don't need to treat health as a chore.
We make it feel like a treat.
Wholesome Nutrient Dense Menu